Over 200 Years of Combined Escomatic Swiss Screw Machine Experience
For over 60 Years LAB has been and continues to be recognized as a "World Class Supplier" and "Supplier of Choice" for O.E.M. manufacturers worldwide. Specializing in component part manufacturing for multiple industries.
Industries serviced include:
Automotive
Electronics
Industrial
Consumer Goods
Firearms
Mechanical Security
As a leading innovator and specialist in Swiss Escomatic Screw Machine performance abilities, LAB operates over 120 Swiss Escomatic Screw Machines that have been re-engineered by our founder and CEO Robert A. Labbe to maximize performance and accuracy along with eliminating non-value added processes for reduced production costs.
120+ Swiss Escomatics:
D2 2MM (.187") maximum diameter capability
D4 4MM (.187") maximum diameter capability
D6SR 6MM (.250") maximum diameter capability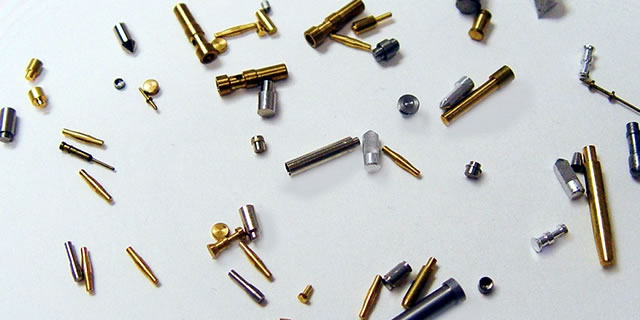 VALUE ADDED SERVICES
LAB is a full service manufacturer of high quality precision machined components. From raw material sourcing to surface treatment and fulfillment, LAB offers full service contract manufacturing support.
QUALITY
LAB is fully committed to accomplishing the highest customer satisfaction level by providing superior component parts that exceed our customers expectations.
QUALITY CONTROL EQUIPMENT
Optical Comparators
Hardness Tester
Microscopes
Height Gages
Calibration System
SOURCING
Global Raw Material Sourcing:

Brass
Stainless Steel
Aluminum, Beryllium
Copper
Cold Rolled Steel
Nickel Silver
Bronze
and more…

RoHS Compliant
SECONDARY OPERATIONS
De-burring
Tumbling
Coloring
MANAGED SERVICES
Heat Treating
Passivation
Plating:

Gold
Silver Electroplating
Electroless Nickel
Chrome
Zinc
Anodizing
etc.

Black Oxide
Electropolishing
DIRECT FULFILLMENT
Min/Max Programs
Kan Ban Programs
Worldwide Order Fulfillment
Blanket Order processing with inventory controlled releases per customer requirements.
JIT
QUALITY OVERVIEW
ISO 9001:2015
Six Sigma Certified
Lean Manufacturing Processes
CPK Controlled Processes
Statistical Process Control (SPC)