Lock Tumbler Pins for Lock Manufacturers
When you depend on LAB to support your tumbler pin requirements, you are depending on more than the most respected brand name in the lock industry. You get technical manufacturing support and totally focused productivity from our team of experts. Our skilled personnel have over 100 years of combined experience.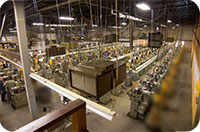 Production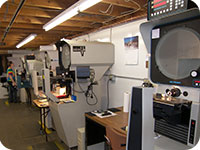 Quality Control Room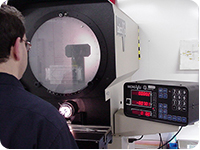 Inspection using Optical Comparator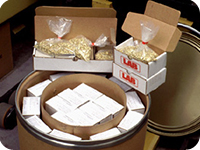 Factory Friendly Bulk Packs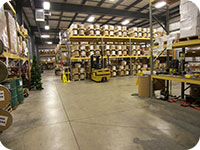 Warehouse
Over 120 machines provide a capacity of over 2.0 billion tumbler pins annually.
Pins are manufactured on precision Swiss Machines which have been modified by LAB to increase accuracy and reduce downtime.
Quality control system with state of the art inspection equipment guarantees quality and adherence to your specifications.
The LAB Quality System requires inspection and documentation of product at each phase of manufacturing.
Inspections are performed at Material Receiving, Setup, In-Process(SPC), Final and Packaging.
Our special cleaning process eliminates residue build up in automatic pinning machines.
Barcoding is used throughout our facility to ensure accuracy.
Quick response lead-time from approved drawing to first article samples.
Special bulk packaging concepts allow for easy shipping, handling, and factory usage.
"J.I.T." (Just In Time) delivery programs
Production Tumbler Pins are packaged in "Factory Friendly" bulk packs of 5,000 or 10,000 pieces.
Each pack is clearly labeled with Your Part Number, Revision, Quantity, and a Quality Control Batch Number.
Individual packs never weigh over 10 pounds.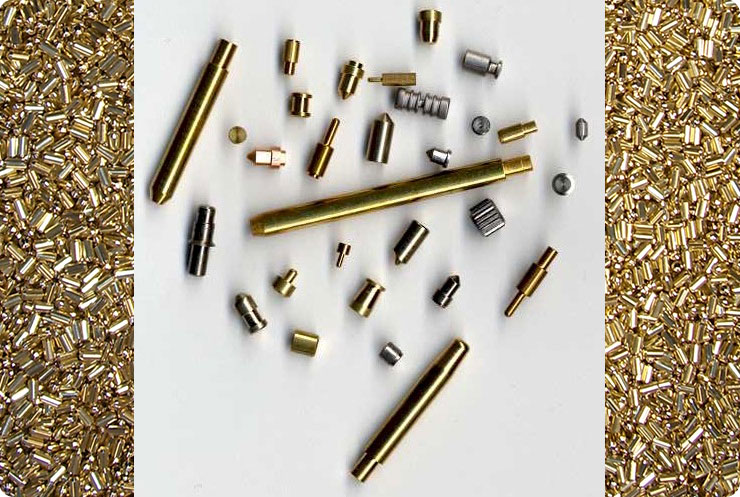 Aftermarket Packaged Replacement Pins
Replacement tumbler pins are vital for the after-market user. Whether rekeying or simply just replacing worn pins, LAB provides custom packaging of your original pins in small quantities for the after-market user.
Packaged in a variety of types of packaging in standard or custom quantities for your aftermarket repinning customer.
Packaging can be generic or private labeled to promote your brand name.
LAB can design a pre-packaged production tumbler pin program utilizing several different types of packaging and featuring your brand name.
LAB pins are packaged for the convenience of the user.
Our customers have a choice of several packaging systems. "Reusable" Flip Top Vials, "SMART-PAC" or Poly bag.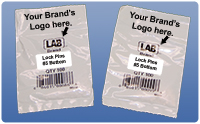 POLY BAGS
Simple and economical system, utilizing heat sealed poly bags with Your Company Logo, product description, quantity and barcode information.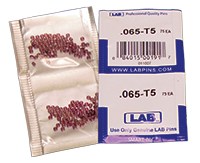 SMART-PAC
Unique LAB exclusive packaging system featuring safety sealed packets, with clear reverse sides for viewing contents.
Your Company Logo, product description, quantity and barcode information.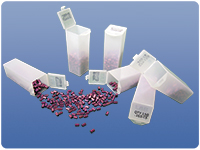 FLIP TOP VIALS
Another LAB exclusive. The "Flip Top Vial" features Reusable/resealable packaging and easy storage.
The "Flip Top Vial" snaps shut to prevent pin loss.
Your Company Logo, product description and quantity information.
Professional Rekeying Kits
LAB provides solutions for all of your rekeying kit needs. Choose from many in stock designs or we will create a custom rekeying kit just for you. Custom designed rekeying kits that separate pins, parts, and accessories for the convenience of your professional rekeying customer. Custom designed to your specifications.
Custom rekeying kits are our specialty.
Rekeying Kits can be designed using many different types of materials.

Metal (Steel)
Polyethylene
North American Hardwood
Injection Molding

Superior LAB standard features are quality crafted in each kit.

Sealtight covers that prevent leakage
Customized Styrene inserts
Customized Charts
Heavy Duty hardware
Super Tough construction
Available in numerous colors, finishes, shapes and designs